Contact Us
Dr. Shawn & Julie Haas
Box 36
Denholm, Saskatchewan
S0M 0R0
Canada
306-446-0090

Welcome to our website about Rosethorn Newfoundlands

We obtained our first Newfoundland in 2000. We were very taken with the lovely temperament of the breed and had a great time competing in conformation and obedience shows with her. We had our first litter in 2003 and have continued to show and breed Newfies since that time.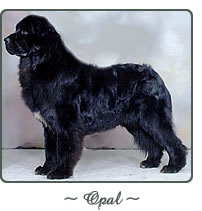 The main focus of our breeding program is to produce well tempered, healthy dogs that make wonderful companions. We also try to produce a versatile dog that is true to the breed's history and can perform well in draft and water work, as well as conformation and obedience.
All of our breeding stock is evaluated for heart, eye, hip, elbow and thyroid certification. Their cystinuria status is also checked. These certifications don't guarantee that our puppies will be free of these diseases but are the best tests available to help evaluate a dog's breeding value.
We are members of the Canadian Kennel club, Chatauque Kennel Club and the Newfoundland Club of America.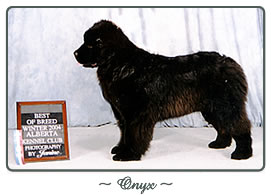 For additional information on our dogs feel free to contact us at .